Senin Glazeroff was born as Salomon Abramovich Glazer in the Russian town Voronezh in 1882. Having received a professional dance education, he began to tour throughout Russia with great success. In 1905, he married the German dancer Elsa Grabowski, with whom he founded an "original Russian" ensemble. The dance master increased his troupe continuously under changing names. Particularly popular became the "Circassian" show with "original knife dance", which he presented for years in Europe's variety theatres and circuses. During WWI, the Glazeroff troupe performed as "Polish" ensemble, while it turned into a "Ukrainian National Ballet" in 1919. In the 1920s, Glazeroff reached the peak of his success and purchased a prestigious villa in Eggersdorf near Berlin. His election to the board of directors of the International Artiste Lodge in 1926 indicated Glazeroff's high reputation. In this period, he retired from active dancing and focussed on the management of his ensemble.
Advertising poster of the Senin Glazeroff Troupe of 1913 (Theatre Collection – Special Collection, Universiteit van Amsterdam)
The Nazis' accession to power in January 1933 brought about an occupational ban for Glazeroff. The last performance of his troupe took place in Leipzig in mid-September 1933. Things even got worse. One day, members of the SA intruded into Glazeroff's villa, hit him in the face, and forced him to sweep the street in front of the villa. Afterwards, they destroyed parts of the interior furnishing and valuable dance costumes. In September 1935, the villa and the surrounding plot were sold in a compulsory auction. Senin and Elsa Glazeroff had to move to a small apartment.
After the November pogrom of 1938, Glazeroff decided to flee to Belgium. He crossed the green border near Aachen illegally by foot and went on to Antwerp. After his declaration to cover the costs of his living from own resources and the indirect help of his wife who remained in Germany, the Belgian immigration authorities granted the "stateless" refugee a temporary right of residence. Further support came from the Jewish Aid Committee and the organisation EZRA. Glazeroff planned to assemble a new troupe of artistes and to go on world tour. However, the invasion of the German Wehrmacht in May 1940 shattered Glazeroff's plans. The new authorities registered him as a Jew and forced him to wear the "Jewish badge" as from May 1942. When mass arrests and deportations to Auschwitz began in summer 1942, Glazeroff was not affected thanks to his non-Jewish wife, although a permanent and gruelling uncertainty remained. Furthermore, he suffered from health problems, as two longer stays in hospital in late 1941 and autumn 1942 indicate. The only fact known about his further fate is that he died at the age of 62 in Antwerp on February 28, 1944.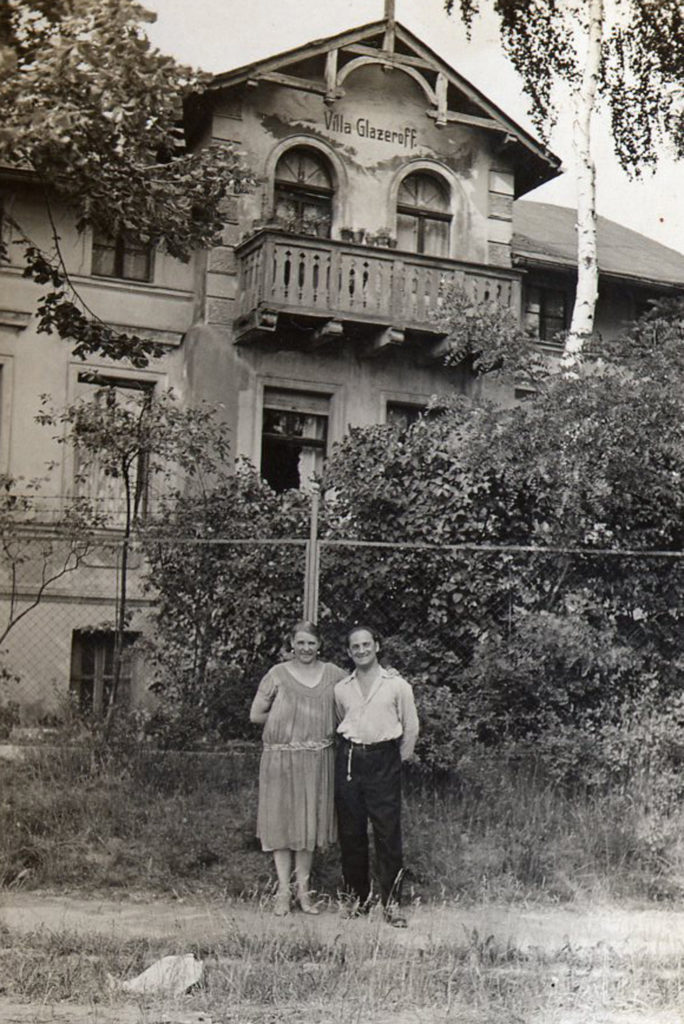 Senin and Elsa Glazeroff in front of their villa in Eggersdorf near Berlin (Private Archive of Günter Knobloch, Petershagen)
In remembrance of Senin Glazeroff, a Stolperstein (stumbling block) has been laid in front of his last domicile in Eggersdorf in 2012.
Author: Martin Holler
Sources: Knobloch, Günter: Tanz ins Vergessen. Das Leben des Artisten Senin Glazéroff. Petershagen 2013; Rataj, Gabriele: Ein "vergessener" Eggersdorfer. In: Märkisches Echo, 6.10.2010; 25jähriges Bühnen-Jubiläum Senin Glazeroffs. In: Das Programm. Artistisches Fachblatt. Nr. 578, 4.5.1913; Meinen, Insa: Die Shoah in Belgien. Darmstadt 2009; Meinen, Insa / Meyer, Ahlrich: Verfolgt von Land zu Land. Jüdische Flüchtlinge in Westeuropa 1938-1944. Paderborn 2013; Telephone conversation with Günter Knobloch. 12.9.2018.