Founded by Ahmed Ben Amar el-Gaid in Setif, Algeria, Circus Amar became one of France's leading circus companies under the direction of his widow Marie Bonnafoux and his sons Ahmed also known as Amar aîné, Mustapha, Ali and Shérif. Around 1930, the Amar brothers bought property in Blois (central France) and built on this site the winter quarters for their circus. The property included stables for the animals and a building with a rehearsal area for train new animal numbers. In the summer of 1936, the brothers housed the German-Jewish circus family Strassburger who had gone into exile in France. Hugo Strassburger, his wife Karoline and their children Henriette and Adolph worked in the circus Amar until the autumn of 1939. When the war broke out, Hugo and Adolph were sent to the Gurs internment camp. After a short time, the latter was able to return to his family members who had remained in Blois. In 1942, Hugo and Henriette were deported to Auschwitz, from where they did not return. Karoline suffered the same fate in 1943. Only Adolph escaped his captors. Shérif Amar hid Adolph and provided him with food throughout the whole occupation period (http://www.divergingfates.eu/index.php/2018/10/22/hugo-strassburger-1880-1942-und-familie-die-verhaengnisvolle-rueckkehr-aus-suedamerika/?lang=de ).
From the beginning of the war until the German occupation, the French authorities used the Amar site in Blois as an internment camp for German exiles. Among the internees was Ernst Heidelberg, who had run a bookstore near the University of Sorbonne before the war. He later reported on the harsh conditions in the circus tent.
Traveling was prohibited to the Amar brothers since the outbreak of the war. In the French capital, the brothers offered three circus shows during the war: In Paris, "Le Grand Cirque" by Mustapha, "Cirque International" by Ali and "Le Nouveau Cirque de Paris" by Ahmed and Shérif.
In September 1942, the Amar brothers were reported as suspected "members of the Jewish race". However, an investigation of the French authorities collaborating with the Germans revealed that the brothers were "pure Aryans". Her name has nothing to do with the "Jewish Bank Saul AMAR", but comes from "AHMED BEN AMAR".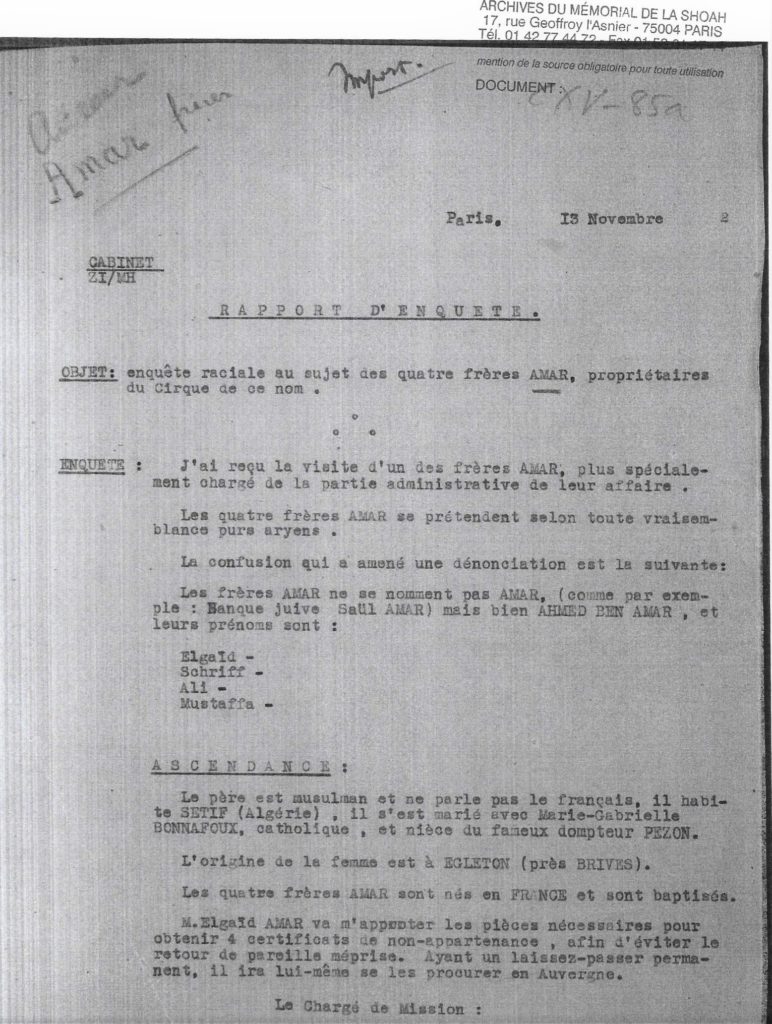 Investigation report on the Amar case (Archives du Mémorial de la Shoah, Paris)
According to Edit Kleinbarth who worked with her family between 1946 and 1948 at Ali Amar's circus and 1949 with Shérif Amar both brothers used in their companies German prisoners of war as animal keepers and tent workers. Prisoners of war who were former Wehrmacht soldiers traveled with Ali Amar's circus in Spain and North Africa. Only former SS members were not allowed to travel abroad.
Information by Edit Kleinbarth, 19.11.2018; Mémorial de la Shoah, Paris, CXV-85a; Archives du Loir-et-Cher, RV1620; Badia, Gilbert: Exilés en France: Souvenirs d'antifascistes allemands émigrés (1933-1945), Paris 1982; Dominique, Denis: Les Cirques des Frères Amar. Aulnay-sous-Bois 2006; Neilz, Claire: Histoire des logements du cirque Amar à Blois, http://www.caue41.fr/histoire-des-logements-du-cirque-amar-a-blois [last access: 24.10.2018]; Nissing, Herbert St.: Strassburger. Geschichte eines jüdischen Circus. Dormagen 1993; Sumpf, Alexandre: Les frères Amar, Histoire par l'image [en ligne],  http://www.histoire-image.org/fr/etudes/freres-amar; http://www.cirk75gmkg.com/2018/10/les-circassiens-juifs-pendant-la-guerre.html [last access: 24.10.2018]